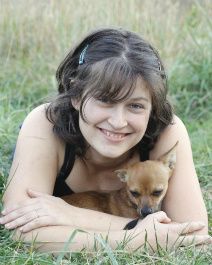 My name is Christy and I like to sew, scrapbook, make jewelry, paint, read, take pictures and of course play around on the computer. I may or may not be a little addicted to Plants vs. Zombies
I live on a farm in rural Missouri with my husband of 15 years, our 5  children, and multiple animals (chickens, dogs, cats, fish, a turtle and a horse). Obviously this is my blog, and I write about a variety of stuff… reviews, giveaways, my business website, recipes, sewing tutorials, my crazy life… and I do whole lot of rambling. In July the kids broke the screen on my laptop and I'm not sure when I'll get it fixed, so right now my blog is inactive, but someday I'll be back
About my family…
Colby currently works in a lumber yard at our local hardware store and is a volunteer firefighter. He's also EMT for two ambulance districts and helps with Wyatt's Boy Scout troop. He enjoys archery, fishing, hunting, relaxing in front of the TV and going on outings with me and the kids. He tells everyone that geocaching is "that treasure hunting thing I like to do with the GPS unit" but he went and bought himself a GPS so we could do boys vs. girls when we go… yeah he doesn't like it at all lol!
My oldest daughter is Shelby, she's 15 and is now driving! Shelby also knows EVERYTHING, just ask her, she'll tell you. Oh wait, you don't even have to ask her, she'll just tell you lol. Most of the time she's sweet and caring, but she's a teen so she also has days with BIG attitude lol. She loves to dance and sing and make things (macrame, friendship bracelets, jewelry, etc). She also plays clarinet. She's a proud nerd, bookworm, and "tree hugger", and likes basketball and volleyball. When she grows up, Shelby wants to be a nurse and she's already signing up for things in school to help her achieve her dreams!
My oldest son is Wyatt, he's 13 and loves the outdoors! Seriously, he'd camp year 'round if you'd let him, just so he could stay outside. He enjoys riding his bike and 4-wheeler, digging holes in the yard, swimming, playing computer games, fishing, and hunting. He's quite an archer and loves Fanning's "Techno Hunt" and even more he loves the fact that he can out-shoot the older boys that go with us lol. He's also a cadet on the fire department and a Boy Scout! When he grows up, Wyatt wants to be a firefighter. Earlier this year Wyatt entered his first rodeo and attempted to ride a bull. He didn't make the buzzer, but was immediately ready to try again after he got up.
Cassie is my youngest daughter. She's 12 and quite hard to describe. She's a tomboy, she's a girly girl, she's a drama queen, she's a bully, she's a bookworm, she's quiet and shy, she's loud and obnoxious, she's hyper, she's laid back, she's a little of everything all in one package. Her Uncle Bill swears she's just like her mama lol. She enjoys reading, watching TV (loves iCarly, Hannah Montana and Wizards of Waverly Place), playing in the dirt, riding her bike, doing all kinds of arts & crafts, swimming, playing basketball, volleyball, and baseball. She also likes to play dress up (chef, mommy, beauty pageant, etc). When she grows up, Cassie wants to be a beautician.
My middle son is Lucas, he's 8 and in 2nd grade. Lucas is a Wolf Scout and is having a blast with his troop! He loves to ride his bike and play with Hot Wheels and his BB gun and losing arrows shooting his bow. We recently bought him a new compound bow so he can shoot harder, further, faster like the "big boys". When Lucas grows up, he wants to be a police officer, firefighter and a bareback bronc rider, but right now is sticking with sheep (mutton bustin').
Logan is my youngest son. He is 4 and enjoys "reading" books, and playing with his firetrucks, ride-on toys, and his pets. His dog Bailey and cat Dixie are his best friends and he would be lost without them. He's also recently discovered how much fun paint, crayons and markers are, which means I spend a lot of time cleaning up his wonderful colorful messes lol. Logan will started school (Head Start) this year and is having a wonderful time with all his new friends. When Logan grows up he wants to "fly airplanes" or be a flight medic.