A maternity belly band will allow you to wear your regular non-maternity shirts well into your pregnancy because it hides the ugly maternity panel in preggo jeans. You want to pick a fabric that is stretchy, but recovers well. Jersey or something with spandex in it is best.
The first thing you want to do is fold your fabric with the stretchy part going along your ruler, then with a rotary cutter even up the edge so you will eventually have an even tube. The more you move the fabric around the more likely it is to become unevenly cut, so if possible place it on your self healing mat where you won't have to move it for the next cut…

Then measure up 12 – 14″ (depending on how tall you want your band to be) and make another cut, the short piece is what will become the maternity belly band, push the long piece out of your way for now….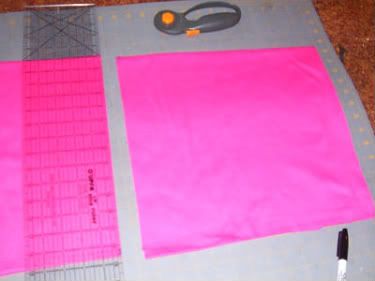 Measure around the biggest part of your stomach…

Spread out the piece of fabric you just cut, subtract 2 – 4″ off the previous measurement (depending on how tight you want your band to fit), and make a straight cut along the short end…

If you've cut your fabric right it will stretch along the length, if not you'll have to start over because it will not be able to stretch around your stomach.
Serge or zig-zag over the edge of both long ends…

Serge or sew the short ends together to form a tube…

Hem one of the long endsend with a zig-zag stitch, this will allow it to stretch around your stomach without breaking the threads…

Turn it right side out and wear with the hemmed end down…